PIGGLY WIGGLY DEPARTMENTS
Piggly Wiggly Apalachicola and Piggly Wiggly St. George Island are both full-service grocery stores. From our Fresh Seafood Market on St. George Island to our Piggly Wiggly Apalachicola Deli, our local grocery store includes the following top-notch departments: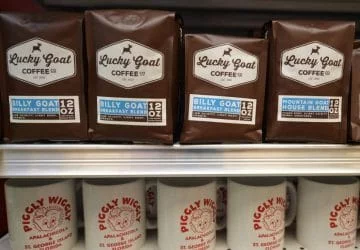 Specialty Items: Our stores offer an extensive line of difficult-to-find specialty items, including organic, vegan and gluten-free products.
Fresh Produce: We carry the best fresh produce in all of North Florida. We use special hydration techniques to keep our fruits and vegetables fresh, beautiful and delicious. If it's not top-quality, we don't sell it.
Deli Counter: We offer a variety of hand-cut deli meat and cheeses, including a full line of Boar's Head options. You'll find a remarkable array of delicious options at our Piggly Wiggly Apalachicola Deli!
Seafood: Discover the freshest local seafood at both stores. Plus, we steam all seafood items for free! Our Fresh Seafood Market St. George Island is second-to-none.
Wine & Beer: Piggly Wiggly Apalachicola offers a huge selection of wine and craft beer. Cheers!
Fresh Meat Counter: With a butcher on duty, our fresh meat counter serves only choice to prime beef, including Certified Angus Beef.
Hot Deli Pizza: Both of our stores offer fresh, made-to-order pizza.
Dairy Department: Our local grocery store carries an extensive line of cheeses and unique yogurts, including soy-based, almond-based and cashew-based yogurts.
Frozen Foods: From frozen fruits and vegetables to easy family meals, Piggly Wiggly has a huge frozen foods selection.