30+ Years of Small-Town Service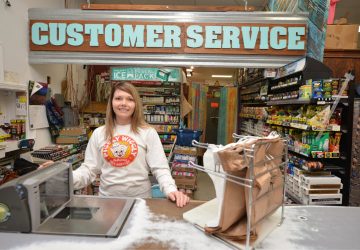 Piggly Wiggly has been serving the communities of Apalachicola and St. George Island for more than 30 years. The St. George Island location was originally built in 1976. Since then, it has been transformed into a full-service grocery store.
Piggly Wiggly Apalachicola and Piggly Wiggly St. George Island are locally owned and operated. Because our stores have strong roots in this community, we strive to offer every customer top-quality products and warm, friendly service.
Both of our stores offer an extensive selection of products. From hand-cut meats and cheeses to premium produce and fresh, made-to-order pizza, our full-service grocery stores have everything you need—and then some!
While our first-class products are extremely popular with shoppers, what really makes Piggly Wiggly tick is our exceptional staff. Many of our employees have been with us for more than 20 years, and they are simply the best.
Whether you're a local or visitor to Florida's Forgotten Coast, our friendly staff is here to greet you with a smile and treat you like part of the family. Their goal is to make sure every shopper leaves our store happy—every single time.
Piggly Wiggly Roots
Piggly Wiggly was founded in 1916 by Clarence Saunders in Memphis, Tennessee. America's first true self-service grocery store, it was unlike any other grocery store of that time. There were shopping baskets, open shelves and no clerks to shop for the customer – all unheard of in that day and age.
Piggly Wiggly Corporation, established by Saunders when he opened the first store in Memphis, secured the self-service format and issued franchises to hundreds of grocery retailers for the operation of Piggly Wiggly stores.
Today there are more than 600 Piggly Wiggly stores serving communities in 17 states. All Piggly Wiggly stores are independently owned and operated, and are located primarily throughout the Southeast and as far north as Wisconsin.